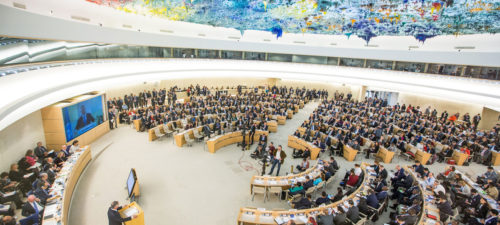 Venezuela does not meet the criteria to occupy a chair in the Human Rights Council
---
Publicado el: 15 de octubre de 2019
---
Venezuela is confronting a multidimensional crisis, resulting in massive violations of human rights. At least Since 2015, a complex humanitarian emergency has affected the lives of millions of Venezuelans, forcing them to flee the country. To date 4.3 million Venezuelans have left the country in the last four years, making it the second largest refugee crisis worldwide after Syria.
This generalized crisis, marked by persecution by the state, including serious human rights violations, torture practices, extrajudicial executions, arbitrary detentions, and enforced disappearances, has been confirmed by the office of High Commissioner Michelle Bachelet in a report she presented to the Human Rights Council in July. In September, Bachelet presented her oral report, further highlighting the grave situation in Venezuela and the government of Nicolás Maduro's unwillingness to comply with the High Commissioner's recommendations to guarantee the rights of the Venezuelans.
In the wake of the High Commissioner's reports, the UN Human Rights Council approved a resolution to establish an International Fact-Finding Mission to investigate human rights violations—a measure civil society has hailed as important an important step toward ensuring access to justice for victims of human rights violations in the country and an encouraging sign that the international community is committed to offering a coherent and effective response to mitigate suffering in Venezuela.
Grave human rights abuses, though recently on the rise, are not new in Venezuela. For years, the Venezuelan government has failed to cooperate with protection agencies or to comply international standards, recommendations or requests for official visits from international bodies. The only official visit by a special rapporteur to occur in Venezuela was sharply criticized by civil society organizations for its lack of independence.
In the coming weeks, the international community will face a key opportunity to give prompt attention to the crisis and send a coherent message rejecting the Maduro regime's gross violations of human rights. On October 17, the UN Human Rights Council will vote to fill two vacant seats, one of the which Venezuela will seek to occupy. The Council must vote against reincorporating Venezuela.
Seats on the Human Rights council must be reserved for those countries that have committed themselves to protecting and defending human rights and fundamental freedoms. By rejecting Venezuela's bid for a seat on the Council, member countries could send a clear message of intolerance for human rights abusers, while preserving the integrity and credibility of its mission—to protect the human rights of all people. Voting against Venezuela's seat on the Council will also send a message of hope to the Venezuelan people, reinforcing the international community's commitment ending oppression at the hands of a government that systematically violates their rights.