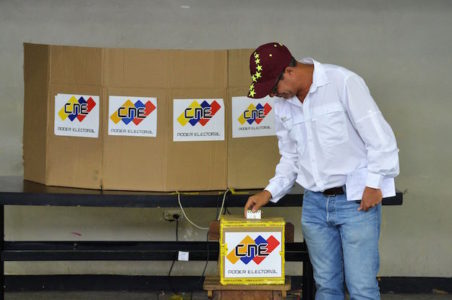 Venezuela Isn't Ready for Elections. The UN Could Help Change That.
---
Publicado el: 03 de julio de 2019
---
International actors can help Venezuela prepare for the day when free and fair elections are a reality.
The international community has a role to play in Venezuela, but it does not involve weapons.
We are pleading with the UN's Security Council and the Human Rights Council to act now to help curb an emergency that is getting worse by the day. Migration and refugee seekers from Venezuela will only increase as the current regime continues its systematic violence against civilians, endangering the lives, integrity, and security of Venezuelans.
We need a faster response that corresponds to the enormity of the situation people are living through. The UN and its councils were created to respond to difficult situations such as the one my country is in. More efforts, resources, and measures are needed to address the humanitarian crisis, prevent heinous crimes and protect the population.
Humanitarian aid is urgent, but the only permanent and peaceful solution to the crisis lies in the ballot box, which will require international help to guarantee a clean process. And it must start now and continue alongside humanitarian assistance during a transitional period.
Dialogue, negotiations, and elections are delicate topics to bring up in Venezuela as anything connected to democracy has become almost toxic to discuss in public. The urgency of the crisis and the desperation of millions of Venezuelans seem to have helped devoid these words of meaning for those who are hungry and sick. But to achieve any long-term solution we must also pave the way for a return to democracy.
To act on those words by ourselves we'd need institutions and time, which we do not have in Venezuela right now. It's been 20 years of accumulated deterioration of all pillars of a democratic society and addressing this political crisis must include the active rebuilding of the electoral system. If the opportunity to conduct elections in Venezuela arose today, we would not be ready.
Civil society organizations like the Center for Justice and Peace have been documenting the systematic destruction of electoral institutions. To rebuild, we need to include international technical assistance while ensuring the participation of both democratic leadership and civil society. An initial step would be to establish a UN Electoral Assistance mechanism to work independently to assess and assist in the reconstruction of the institutions and the re-establishment of the rule of law. To hold an election with integrity requires completing several steps that do not only depend on the government or institutions, but also on citizen participation.
Several civil society organizations including ourselves and Red Electoral Ciudadana (RED) have proposals that include legalizing political parties shunned from the process and renewing the Electoral Council to pave the way for free elections that promote the participation and confidence of citizens in the electoral process.
During the 1990s, the United Nations observed, supervised or conducted landmark elections and popular consultations in Timor-Leste, South Africa, Mozambique, El Salvador, and Cambodia. More recently, the UN has provided crucial technical and logistical assistance in milestone elections in many countries, including in Afghanistan, the Central African Republic, the Democratic Republic of the Congo, Iraq, Nepal, Sierra Leone, and Sudan. The UN's ample experience in organizing elections in situations of humanitarian emergencies can be applied to Venezuela.
The Organization of American States also has a role to play with its own experience of technical assistance to multiple countries. To rebuild the electoral system and push for fair elections is to opt for the main road and avoid shortcuts that can take us where we do not want to be and put ourselves in worse conditions than we are. Removing Nicolás Maduro is not a guarantee that things will change. Remember how many people thought the death of Hugo Chávez would change things? And to all who think that it can't get any worse in Venezuela, you must have lived there to know that even when it looked impossible, it did get worse.
The moment is very hard for all Venezuelans and it is unacceptable that people will continue to lose their lives and their integrity. It is unacceptable that a whole population continues to be denied its basic right to survival. The seriousness of the situation and the criminal nature of those who now control the institutions in the country have led to desperate schemes and quick solutions to try to stop so much suffering. But as unrealistic as it is to think that the complexity of the problem will be solved from one day to the next, it is even more deluded to think that an intervention or exit through violent means would be the answer to end all the problems and suffering of Venezuelans.
Despite this adverse environment, despite this catastrophe that demoralizes us and threatens our sanity, despite the persecution and harassment that seeks to paralyze Venezuelans, the electoral route must be paved now. This cannot wait any longer. We must mobilize behind rebuilding our political rights. We all must demand fair, authentic elections. We have a proposal and support from the International Contact Group, and we hope the recent call from the Lima Group for a peaceful solution will contribute to this effort. And we, Venezuelan citizens and our democratic leadership must hold on to it, help develop it and make it a real bridge that takes us back to a fully functioning state.
—
Beatriz Borges is the Director of the Center for Justice and Peace (CEPAZ), a human rights organization in Venezuela. You can follow her on Twitter @beabor and CEPAZ @_CEPAZ.