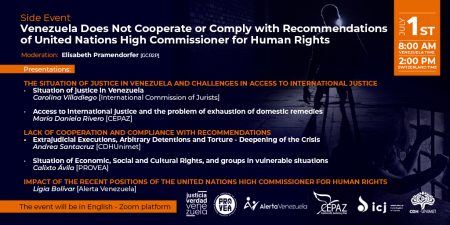 Side Event: Venezuela Does Not Cooperate or Comply with Recommendations of United Nations High Commissioner for Human Rights
---
Publicado el: 29 de junio de 2021
---
CEPAZ and Justicia y Verdad Venezuela, with the support of Centro de Derechos Humanos de la Universidad Metropolitana, PROVEA, Alerta Venezuela, the Global Centre for the Responsibility to Protect, and the International Commission of Jurists, would like to invite you to the side event Venezuela Does Not Cooperate or Comply with Recommendations of United Nations High Commissioner for Human Rights.
Context
Since 2016, various international organizations have expressed their concern about the continuous and severe deterioration of the human rights situation in Venezuela, which is showed in the deep undermining of the rule of law and the disintegration of democratic institutions, as well as in a Complex Humanitarian Emergency on a national scale and multidimensional character, with severe impacts on the massive deprivation of minimum adequate standards of living for the majority of the population. A defining characteristic of this situation is the political crisis that, for many years, has caused the lack of independent and impartial public powers, affecting in particular the Judicial, Legislative and Electoral Powers.
On October 3rd, 2018, the United Nations Human Rights Council adopted resolution A / HRC / RES / 39/1 in which it "requested the High Commissioner to prepare a comprehensive written report on the human rights situation in the Bolivarian Republic of Venezuela, and to present it orally to the Council, during their periods of 40th and 42nd sessions, updated information on the human rights situation". On July 4th, 2019, Michelle Bachelet, in her capacity as High Commissioner of the United Nations for Human Rights (OHCHR) issued Report A / HRC / 41/18 where it presented twenty-three recommendations to the Venezuelan State regarding to violations in the following areas: a) Arbitrary Detentions, b) Torture and Executions, c) ESC Rights, d) Women, e) Persecution, f) Indigenous People, g) Justice, h) Deprivation of liberty, i) CSOs – Defenders, j) Freedom of Speech.
Date: July 1st, 2021
Time: 8:00 Venezuela time / 14:00 Switzerland time.
Registration and Link to connect: https://bit.ly/3x88pWo
Presentations:
Moderation: Elisabeth Pramendorfer [GCR2P]
Welcome and Introduction [4 minutes] – Elisabeth Pramendorfer [GCR2P]
The situation of justice in Venezuela and challenges in access to international justice [20 minutes total]:
Situation of justice in Venezuela – Carolina Villadiego [International Commission of Jurists].
Access to international justice and the problem of exhaustion of domestic remedies – María Daniela Rivero [CEPAZ].
Lack of Cooperation and Compliance with Recommendations [20 minutes total]:
Extrajudicial Executions, Arbitrary Detentions and Torture – Deepening of the Crisis – Andrea Santacruz [CDHUnimet].
Situation of Economic, Social and Cultural Rights, and groups in vulnerable situations – Calixto Ávila [PROVEA].
Impact of the recent positions of the United Nations High Commissioner for Human Rights [10 minutes]: Ligia Bolívar [Alerta Venezuela].
Closure of the activity [5 minutes]: Elisabeth Pramendorfer [GCR2P].
Technical data:
This event will have simultaneous translation from English to Spanish
It will be held through a zoom platform.