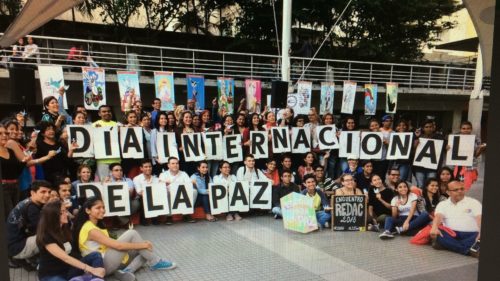 For the third consecutive year, Cepaz brings its collective activism 12 Actions for Peace
---
Publicado el: 09 de septiembre de 2019
---
Three years ago an idea germinated until it became a collective activism that incorporates in each edition more and more people willing to do small actions in favor of peace and human rights. 12 Actions for Peace, an initiative of the Justice and Peace Center (Cepaz), has given civil society the opportunity to express themselves through social networks for the defense of human rights, not only in Venezuela but in several countries of the world.
First edition: 12 days, 12 rights
Altamira´s Plaza Francia was the place chosen for the launch of the first action, carried out on September 21, 2017: the folding of cranes as a symbol of peace. Large banners with illustrations of renowned Venezuelan cartoonists, who donated their works for this cause, promoted human rights and hundreds of people gathered despite the rain to support the initiative.
For the inaugural action we had 335 Venezuelans, with 721 social media posts. Each of them passed their crane to another person for them to commit to perform the 12 actions.
The 12 simple actions showed that it is possible that we all become agents of social change. The day of the closing of the campaign, on October 2, 441 participants were already engaged, and 1,273 tweets had been published, with 2,017,236 views of campaign publications from Venezuela, Colombia, Mexico, United States, Spain, Bolivia, Argentina, Chile and Angola, in southern Africa.
12 Actions for Peace goes to school
The impact on socialmedia and the massive support for the campaign turned the proposal into a workshop to be taken to schools. "Institutos Educacionales Asociados El Peñón", a community of more than 2,000 people, was the pioneer educational unit in providing its grain of sand to promote tolerance, respect for differences, conflict resolution and knowledge of human rights. Enthusiasm and commitment from the educational community reigned during the 12 days of activism. From there our first cohort of Ambassadors for Peace graduated, made up of fifth-year students.
Second edition: Rights of migrants and refugees
The rights of migrants and refugees was the theme chosen for the second edition. The initiative had a massive participation of organizations and people who, during 12 days, disseminated and carried out simple actions to make visible the rights of those who suffer forced migration and to make an impact so that international organizations and States give response, assistance and support.
The launch was held at Plaza Los Palos Grandes on September 21, International Day of Peace. It as full of folded cranes, proclamations for the defense of human rights, pylon songs, games for peace and an enthusiastic participation of citizen activists and civil society organizations. The activity was carried out at the end of the IV Meeting of the Network of Human Rights Activists (Redac).
On the first day 547 people joined the actions. Throughout the campaign more activists joined. In addition, 38 national and international organizations gave their support. One of the fundamental supports for its success was the sponsorship of Twitter Ads for Good. Spreading messages of hope, resilience, containment to migrants and refugees, as well as warning about the migratory situation of Venezuelans were some of the objectives with which the active commitment of the social network was obtained.
Under the label #12ActionsforPeace, people from Venezuela, Colombia, Mexico, United States, Spain, Argentina, Chile, Dominican Republic, Ecuador, Peru, France, Italy, Portugal and even Angola and the Philippines visualized and replicated the publications.
Third edition: For a world where no one is left behind
Grateful for all the support received during the realization of the first and second edition of 12 Actions for Peace and we are ready to start in this year 2019. We will begin on September 21, International Peace Day and end on October 2, International Day of Nonviolence.
The third edition of 12 Actions for Peace will be dedicated to the 17 Sustainable Development Goals, an opportunity for countries to embark on a new path to improve the lives of everyone without leaving anyone behind. These objectives are part of the 2030 Agenda on Sustainable Development and range from the elimination of poverty and hunger to reduce inequality, environmental protection or the design of sustainable cities and communities. Human rights are at the core of the 2030 Agenda and it is important that we all know them.
In several countries we will have launch activities on September 20. In Venezuela we will do it in Plaza Los Palos Grandes starting at 2:30 pm, with an exhibition in which Doctor Yaso, international organizations and more than 30 civil society organizations will participate, such as Amnesty International, Sin Mordaza, Sinergia y Dale Letra, among others. There will also be activities for adults and children and the possibility of donating non-perishable food for our solidarity dining room located in La Dolorita and used school supplies, in good condition, for the children of this community.
How I can participate?
Very simple, become an ambassador of peace allying at 12 Actions for Peace to replicate our messages on social networks, inviting your contacts to do daily activities, participating at the launch activity on 20 September, or being a spokesman for any rights campaign. During the launch we will have an exhibition space for organizations so they can bring their stand, deliver materials and share information with the public. To participate as an individual, you just have to register on the link and wait for the information and instructions of the actions that will be sent daily. To receive an email you must register in the following form: http://ow.ly/LtLp30lGAcw
To participate as a company, organization, college, university or give your institutional support and your logo to appear on promotional materials for the campaign, is important for you to commit to spread information on your website, newsletters and social networking pages, and perform the twelve proposed actions that will be announced with the start of the campaign. Information on each of the actions will be sent via email one day before its publication date. In this email, you will find the explanation of the action to take and the respective illustration for social networks. To be an institutional ally register here https://bit.ly/2Yj5kpp
During these 12 days, every publication you do in your networks must be accompanied by the tag #12ActionsforPeace #12AccionesPorLaPaz
Join this group of wills committed to human rights and to positively change our environment!