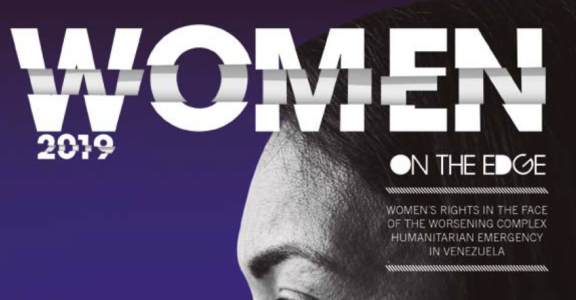 Mujeres al Límite 2019, the flagship report on the rights of Venezuelan women is now available in English
---
Publicado el: 21 de septiembre de 2019
---
The report highlights the need for urgent implementation of plans and policies that guarantee the dignified life of women and girls in Venezuela
Caracas, September 18th 2019. – The human rights crisis in Venezuela has increased the gender gap in an alarming manner, placing women and girls in a grave situation of vulnerability. The Equivalencias en Accion coalition with their "Mujeres al Limite 2019" report demands authorities and various political and civil actors to make an immediate effort to implement plans and public policies that effectively address the negative impact created by the complex humanitarian emergency as part of the economic, political, and social recovery of the nation.
The combination of an absence of effective public policies on sexual and reproductive health, the collapse of the public health system, and the lack of contraceptive methods, has generated a serious setback in the rights and sexual and reproductive health of Venezuelan women, worryingly contributing to the increase in maternal mortality, adolescent pregnancy, sexually transmitted infections, and unsafe abortions associated with unwanted pregnancies.
"Mujeres al Limite 2019" reports that between 2012 and 2016, there has been a steady increase in maternal deaths in the country, increasing by 66% according to official figures. There are also reports from health professionals who are realizing that patients' pregnancies are becoming complicated with infections, high blood pressure or hemorrhages, and that medical centers do not have the medications or supplies to treat them.