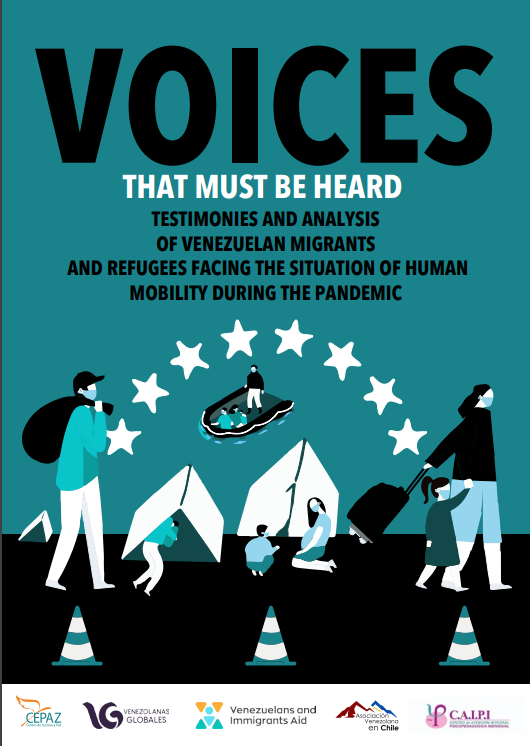 Voices That Must Be Heard
---
Publicado el: 22 de diciembre de 2020
---
In January 2020, the World Health Organization (WHO) made known the existence of the SARS COVID-19 virus that originated in the city of Wuhan in China. Months later the WHO declared this virus as a pandemic, at that time the dynamics of the world changed radically. The measures implemented by the States, such as confinement, the closure of commercial premises, the closure of borders and the prohibition of travel, extended the health crisis to an economic and social crisis with incalculable consequences to date. Additionally, and like any crisis, the most obvious impacts are on the part of people in vulnerable situations, such as migrants, women, indigenous women, children, especially unaccompanied. With COVID-19, this reality is not different.
Regarding migrants and according to the International Organization for Migration (IOM), it is estimated that in the world there are about 272 million international migrants. Venezuela is among the countries in the region with the highest number of migrants due to the complex humanitarian crisis that the country is going through. For example, in 2018, Venezuelan nationals were the main country of origin for asylum seekers in the world according to the IOM. The health and economic crisis, inflation, institutional collapse, lack of access to electricity and water services have forced Venezuelans to leave by land for other countries in the region. The complex humanitarian emergency makes it more important that the international protection standards already established and necessary for the Venezuelan population on the move are applied, since most Venezuelans require international protection.
Migrants and refugees who, due to the regulations of the countries, the imposition of visas, find themselves with an irregular migratory status, usually live hiding, and have no other option than to work in the informal sector. In addition, for fear of being deported or losing their jobs, they do not report and do not have protection from the authorities. All of this generates a space of impunity, reaching levels of labor exploitation, discrimination, trafficking and marginalization. In times of a pandemic, this situation has been exacerbated, Venezuelan people in human mobility have been victims of different violations of their human rights, including the right to seek refuge, international protection, as well as evictions, detention and deportation, acts xenophobic on the part of people and public authorities. The violation of the rights of Venezuelan migrants and refugees has also been evident in the case of those who, as a consequence of the loss of work, evictions and the lack of opportunities in the country of destination, have made the difficult decision to return to Venezuela.
Next, we will detail the rights and events that activists and defenders of REDAC International have documented in the framework of the COVID-19 pandemic and Venezuelan human mobility in the light of those who report.
Read more here