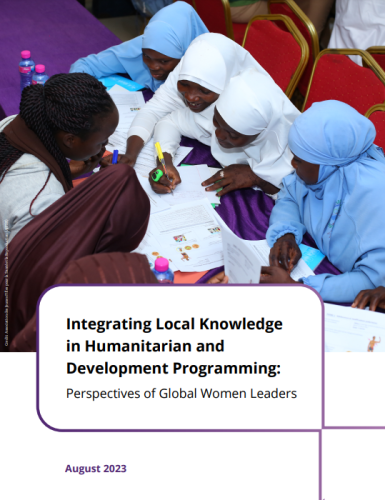 Integrating Local Knowledge in Humanitarian and Development Programming: Perspectives of Global Women Leaders
---
Publicado el: 05 de septiembre de 2023
---
This report examines local knowledge integration in the context of global development and humanitarian aid work. It builds upon a recently published report by the U.S. Agency for International Development (USAID) called Integrating Local Knowledge in Development Programming. That report sought to "share knowledge of how development donors and implementing organizations leverage local knowledge to inform programming.
This study aims to extend the original methods to better understand grassroots actors' own interpretations of local knowledge and its integration into programming in their communities. It examines the perspectives of 29 grassroots leaders from women-led organizations around the world, looking deeply at the ways in which they conceptualize local knowledge and local knowledge stakeholders, their approaches to designing their own projects based on local knowledge, and their experiences sharing knowledge with international actors and donors. This builds the broader evidence base on integrating local knowledge to incorporate the perspectives of grassroots actors into the same conversation as the original study.
Key takeaways from this research span two broad categories – how local leaders conceptualize local knowledge and what the effective use of local knowledge in practice looks like to them. Within these categories, interviewees explored the many challenges they face in identifying and sharing knowledge; their various approaches to designing projects based on local knowledge; some of the tensions they often find themselves balancing; unique ways of measuring the contribution of such knowledge to the success of an intervention; and experiences with and strategies for sharing their knowledge with non-local actors. In terms of how women leaders tend to conceptualize local knowledge, the research reveals three distinct but interconnected definitions of the term: 1) knowing what a community is like; 2) knowing what a community needs and where the solutions lie; and 3) having a profound connection with the community.
The methodology used for this research was adapted from the one used in USAID's Integrating Local Knowledge in Development Programming. The CARE research team borrowed the research questions used by the USAID team with development organizations and modified it to be more apt for use with grassroots women leaders across the globe. The CARE research team together with one external consultant then reached out to its partners across a variety of regional contexts to gauge interest in interview participation, and in the end conducted 29 interviews with women leaders across Latin America, Africa, Asia, and the Middle East. Their inputs and recommendations are synthesized throughout this report. Many of their comments have been translated by the research team into English. Because of the nature of work done by this team at CARE, which is focused on gender-based violence in emergencies, many of its partners work in the areas of prevention, mitigation, and response to gender-based violence (GBV), and thus their answers are grounded within that setting. This document does not rely heavily on literature review or outside research, but rather specifically intends to convey the inputs of these 29 women leaders.